Download the App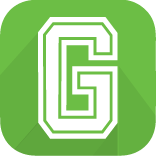 My Game Guru
The world's first Grassroots sports tracking and locating app has arrived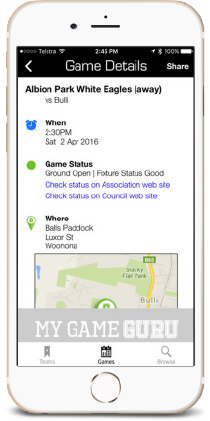 About the App
My Game Guru - keep track of your grassroots sporting events!
Getting started is easy - find your team, then we'll keep you up to date with the team schedule and alert you to changes of location or time through push notifications. Your sports association can also use our app to distribute important updates and wet weather announcements.
We already track thousands of teams across Australia & there's more coming!
Any problems, or can't find your team? Get in touch info@mygameguru.com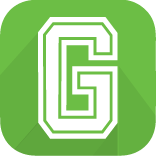 My Game Guru
The world's first Grassroots sports tracking and locating app has arrived
About the App
The world's first Grassroots sports/game tracking and locating APP has arrived
Have you been trying to track your game and struggle with complicated and clunky websites that don't have APP capabilities and are full of annoying pop-up adds?
What about trying to find a local game on a weekend and don't know where to start looking... Game GURU can do it all and more...
With game GURU you simply download the APP free of charge, find your team, follow it and it automatically alerts you when your games are on or fixtures have been altered* and best of all the map navigates you to the ground.
Need to follow more than 1 team, no problem at all. Favourite the ones you want and it tracks them all on 1 page, yes that's right 1 page.
….OR....if you're an out of town sports NUT that needs your GAME fix, the GURU will find games within your desired vicinity and with the tap of the screen will take you to the ground…. Grassroots sports for the FAN made EASY!
Found your game, you can also share it with your friends on other social media platforms.
THIS IS the easiest, simplest way to…. FIND MY GAME…. TAKE ME THERE…. My Game GURU, for the player, parent, coach, manager or best of all, the FAN!
"My Game GURU was born during the local junior sports season when a close-knit group of mothers were struggling week to week locating grounds and constantly asking for match times. It was then that they went about transforming their struggles into the "Game GURU" to help all grassroots participants and fans change the way they find sport, hence the tag "find my game….take me there"